Trip to Raglan | Travel Around New Zealand Series
When I decided to move half across the world, I knew that this was an incredible opportunity to travel and see a part of the world I otherwise wouldn't be able to. I'm really excited to experience as much of New Zealand's culture and nature as possible, take many road trips, camp a lot and just enjoy the fact that we are here. And lucky for you, this is your invitation to tag along for the adventure!
For part 1 of the "Travel Around New Zealand Series", we're kicking it off with a trip to Waitomo, Kawhia and Raglan!
This was a weekend trip that we rented a car for and drove down about 200km south of Auckland. We spent both nights at camp grounds in a tent and enjoyed a mix of paid and free adventures.
Waitomo
Waitomo is a very well-known tourist attraction in New Zealand that is most famous for their glowworm population. You can see them in a guided tour in one of the 3 toured caves or book a black water rafting adventure along the river at Ruakuri.
I have booked a cave tour with my dad earlier in January. It was a very family friendly and not so exhilarating experience. So if we knew of the black rafting in advance we would 100% have done that.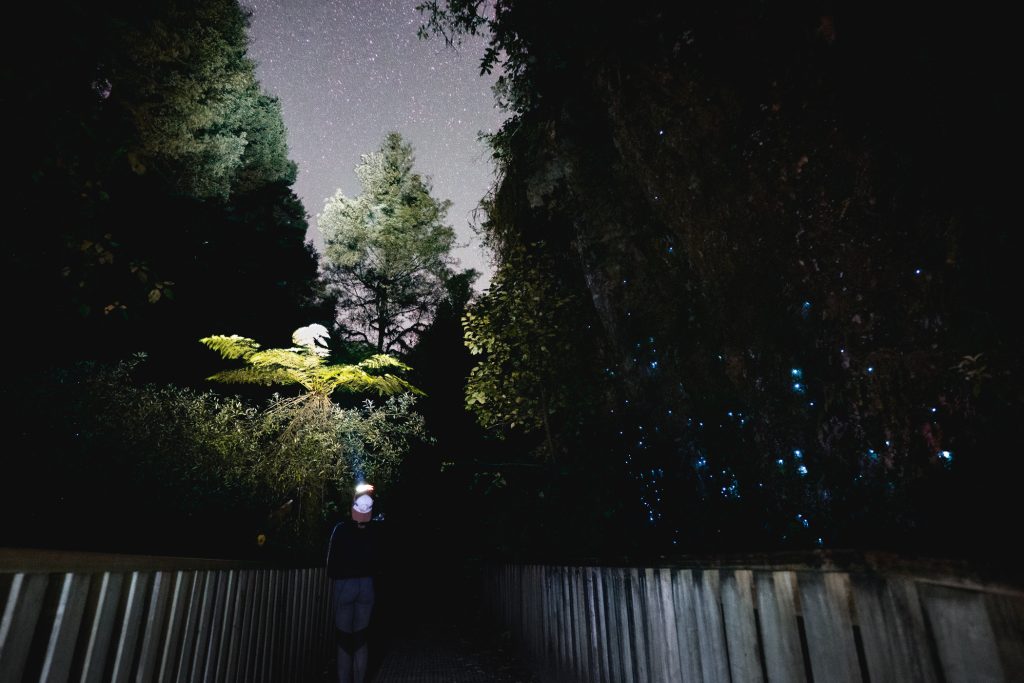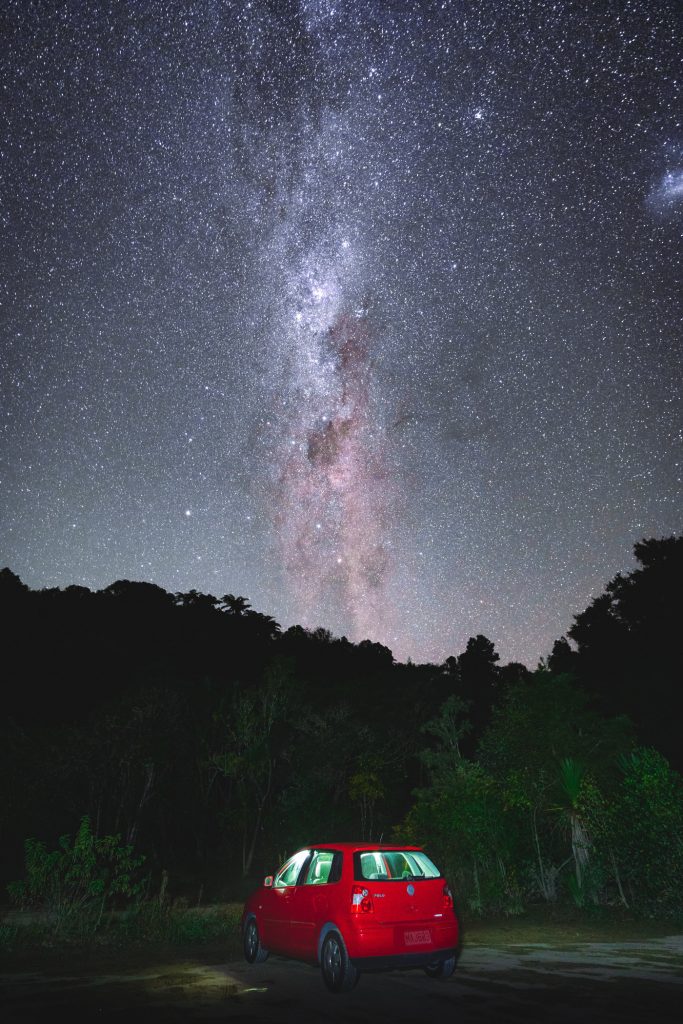 A free alternative to both of these attractions is the Ruakuri bushwalk. This is a small ~1h trek that will take you along the river and the cave system. And guess what, you get to see the glow worms in the wild for free. Yes! It's as amazing as it sounds. I was absolutely mind-blown when we got there. We had a clear sky and we could see the glow worms and the Milky Way simultaneously! Honestly, it's quite crazy that so few people are aware of it. The parking is fully empty when you get there at night.
We had a clear sky and we could see the glow worms and the Milky Way simultaneously!
Kawhia
After spending the night admiring the stars, we drove up to Kawhia the next morning. Our main objective was to experience the Hot Water Beach but we ended up enjoying more of this beautiful place thanks to our very friendly camp ground host. He recommended us to walk the Aotea walkway to view protected sand dunes on the opposite shore and to take the Raglan/Kawhia gravel road for some amazing scenery.
You have probably heard that New Zealand has a very rich thermal heritage due to its volcanic activity. If you come to The Hot Water Beach at a low tide, the retrieving water exposes the thermal source right by the ocean. All you have to do is walk along the beach, test out the sand for warm spots and get digging with your shovel. A couple minutes later, you can enjoy yourself in your own hot pool overlooking the ocean.
In the evening, we enjoyed a beautiful sunset above the Tasman sea. And as we were cooking dinner in the campground, a very nice local came by on a quad. We had a wee chat about life and he offered us a smoked fish that he caught and prepared himself. It was super deeee-licious!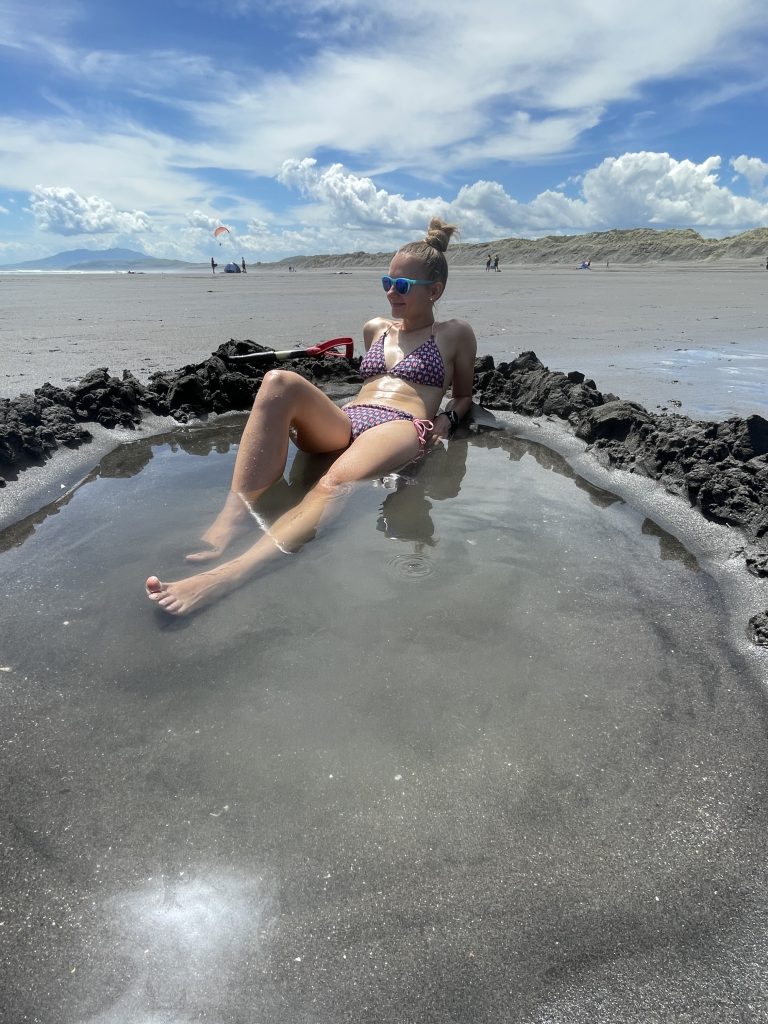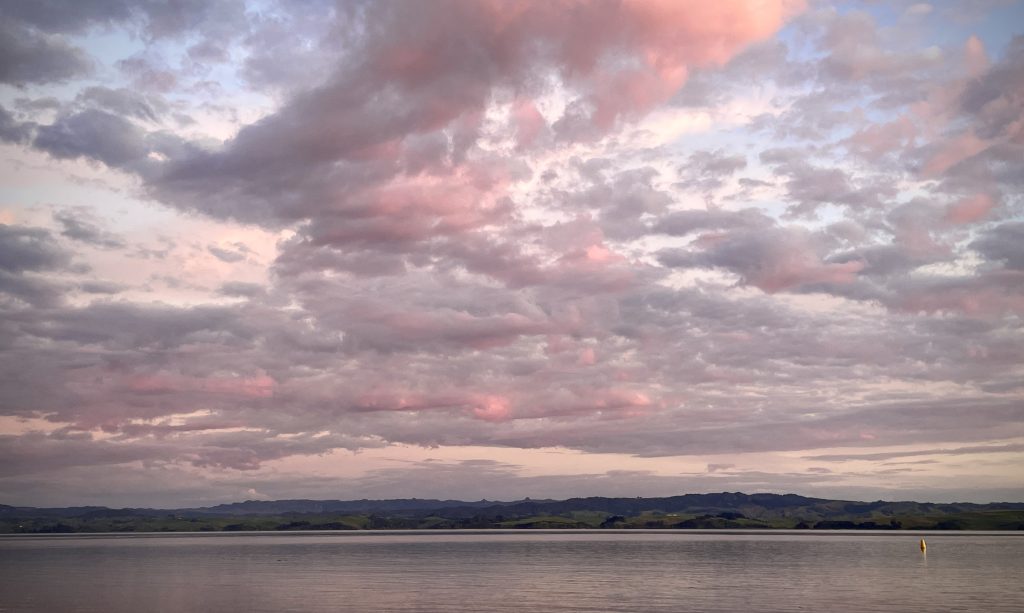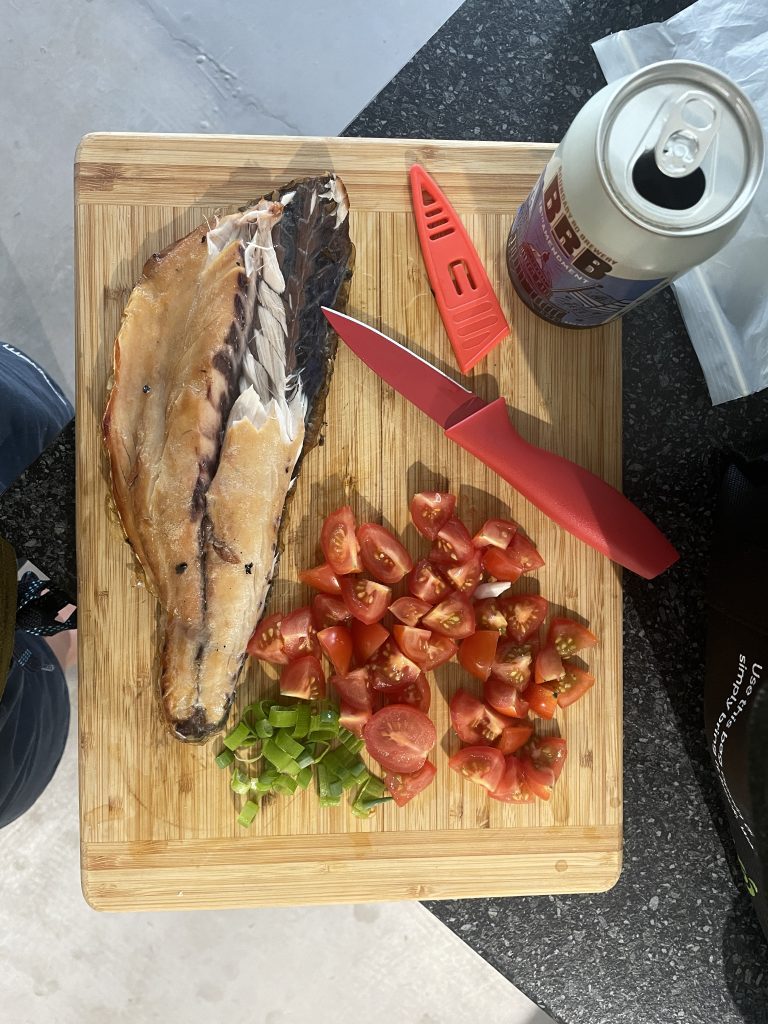 Raglan
It was an early start for us on Sunday as we had a surf lesson to get to (Sietse's first time on the board!). We headed out of Kawhia onto the Raglan/Kawhia gravel road (yes the scenic route) and had such an enjoyable drive to Raglan. The views were amazing, especially with the soft light at sunrise. It really was worth the extra time.
What you need to know about Raglan is that it's a surfer's paradise, the town has a really nice hipster/cute/outdoorsy vibe and it's famous for its coffee. We put all of that on our agenda. First, we stopped for a coffee and a cookie in town; then we spent 4 hours getting smashed in the waves; and then we came back to soak up the town and enjoy some late lunch.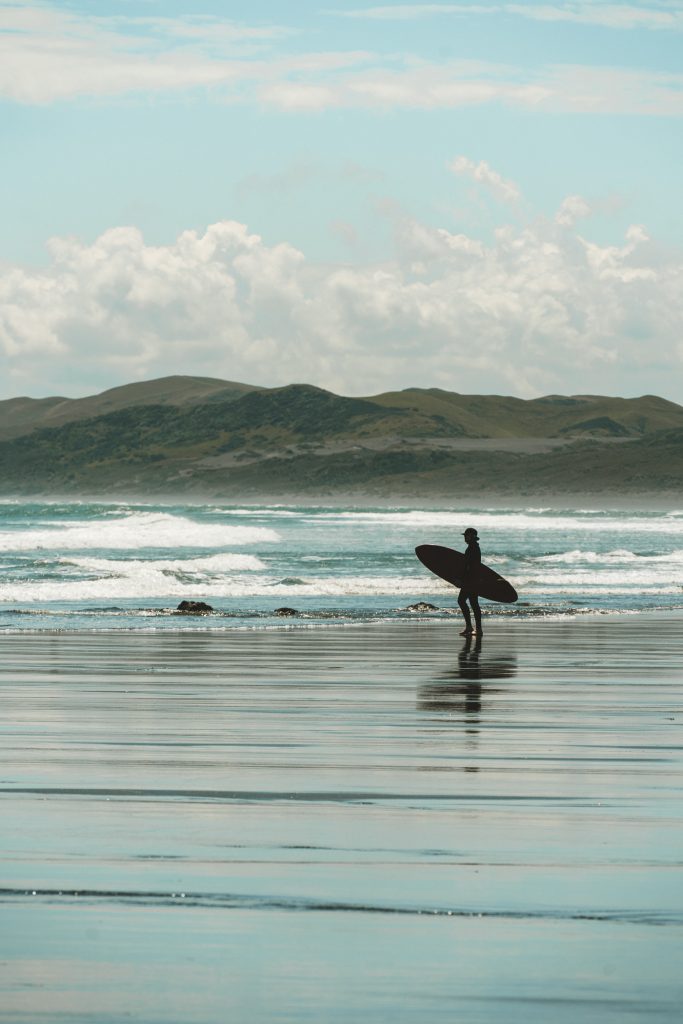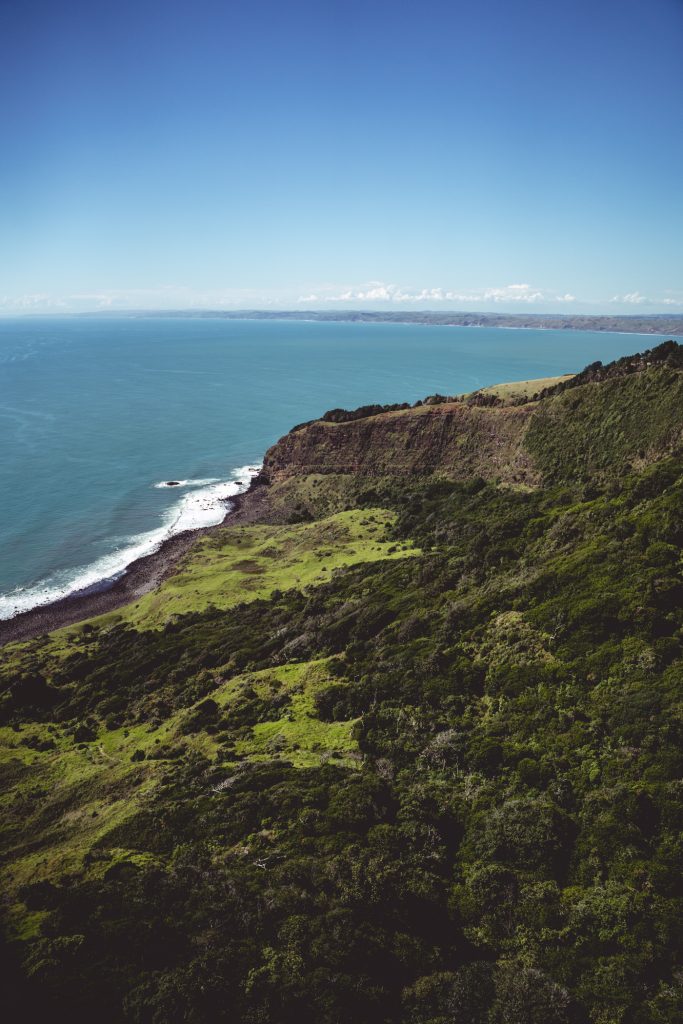 Soon, it was time to head back to Auckland but along the way, we made a stop by the Te Toto Gorge Lookout (which honestly was just so peaceful and pretty, just like from a postcard) and the Bridal Veil Falls.
These weekend getaways are such a reminder to me about all the beauty the world has to offer. After a trip like this, I know all the hassle to move to New Zealand was worth it.
Thank you for tuning in to the first episode of my travel series. You can read all other episodes here.
Until the next time,
Denny