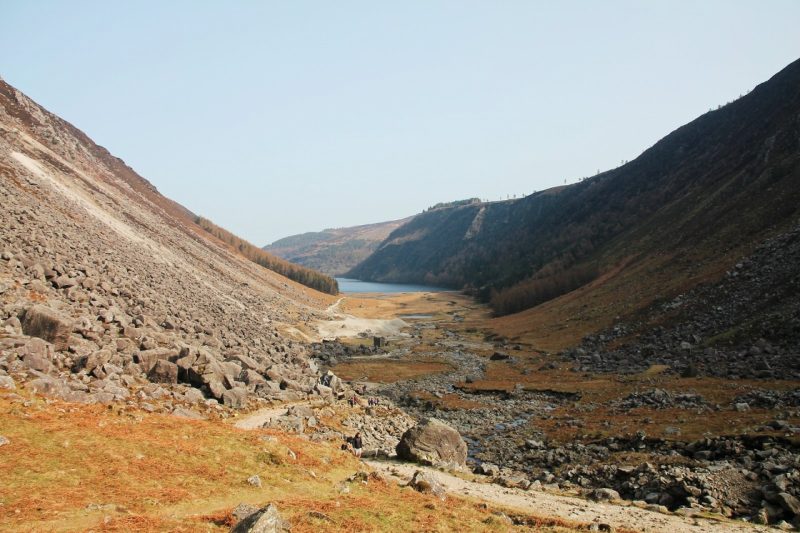 Dublin City Tour: Part II – Top 5 hikes and walks accessible by public transport
Dia dhaoibh! Hello everyone!
As my stay in Dublin is coming to an end (four months have passed already, time flies!), I decided that it is high time for me to share with you some more hidden gems in this beautiful city. Ireland is a country full of nature and greenlands. The charming sceneries of this country were one of the first attractives I wanted to discover . That is why, when I injured my knee a few weeks after my arrival, I was extremely upset. I thought my hurt leg would make me miss the lovely trails that I had been planning since day one. Luckily, my recovery was a pretty quick process in the end.
Taking advantage of free weekends and in the best possible company (thanks to all of my hiking partners for the wonderful memories), there has not been a weekend in which I have stayed home. In this post, I bring you a top 5 list of my favourite hikes and walks that you can do either in Dublin or near the city. I want to clarify there are certainly a thousand more astonishing spots in the Emerald Isle, but it can be a bit tricky to get to some of them without a private car. Therefore, as the heading says, these are paths you can easily reach by public transport (i.e., bus or DART train). Without further ado, let's dive into it!
Howth Cliff Walk
Howth is the most touristy town in the surroundings of Dublin. Its particularity comes from the fact that it is located in a small peninsula. This was one of the first hikes I did in Dublin and of course, it had to be in a rainy day. We started in the train station of Sutton and we walked The Purple Route. This is the longest path and goes around all the peninsula coastline until arriving in Howth.
However, there are five different loops available of different difficulties. In fact, we saw lots of people (tourists) just doing the stroll up to where you get views of the Bailey Lighthouse, taking the mandatory picture there and returning to Howth village for a Guinness. Yet, I would recommend doing a lengthier hike. The cliffs are very impressive, and the white lighthouse makes the view more captivating. If you are lucky enough, you might even be able to spot seals sunbathing on the rocks at the bottom of the cliffs!
Access: Via DART, up to Sutton or Howth
Trail: The Purple Loop (we did this one, there are several)
Duration: 12 km/3 hours
Difficulty: Moderate
Post-hike lunch recommendations: The Dog House & Blue's Tea Room, Beshoff Bros, O'Connell's Pub (wherever you go, it is a must to try the fish and chips)
Other things to see nearby: Burrow Beach (Sutton), ferry to Ireland's Eye island, Howth Castle
Ticknock Forest
In the middle of the Dublin mountains, this forest seems taken from a fairy tale. Although Ticknock is a very big forest, the main trail is the Ticknock Fairy Castle Loop. Many websites claim it is a straightforward hike, but we did not experience the same. We got there by bus and if it were not because of our almost Dublinner Pedro, we would have not found the path. Because the weather was awful and we were afraid of being caught in the middle of a storm, we just started walking across the main road until we located the real trail. A tip, it is better to look for the Ticknock parking lot and start going up to the Fairy Castle from there.
The summit offers a stunning panoramic view. On one side you can see the expansion of Dublin (it looks huge from up there), and on the other, it is possible to observe the Wicklow Mountains (in a sunny day, of course). Enjoy the sight and the walk, but please, do not have high expectations in the "Fairy Castle". More than a castle, it is the remains of a passage tomb (i.e., a delightful architectural bunch of rocks stacked up).
Access: Via Bus 114 (from Blackrock DART)
Trail: Ticknock Fairy Castle Loop (the most popular, there might be more)
Duration: 5.5 km/1.5-2 hours
Difficulty: Moderate
Post-hike lunch recommendations: Wooden Spoon Cafe, The Mellow Fig (both in Blackrock), Casper & Giumbini's (in Dun Laoghaire)
Other things to see nearby: Carrickgollogan Forest, Dun Laoghaire Harbour, Tibradden Woods
Bray Head
I must admit here that the first time I went to Bray I was kind of disappointed. I mean, yes, the town was super cute, the cliff walk with the railway views were adorable, but all in all, I expected more action. More hiking, so to say. After a lot of discussion with my friend Grégoire, I realised I did the light version of the path. Once you arrive to Bray and take direction towards Greystones, at the very beginning of the hike the trail divides into two. The one that goes from underneath is the easy one, i.e., the classical Bray to Greystones Cliff Walk. However, I had completely missed the one that goes up to the Bray Head, and continues towards Greystones from above the cliffs.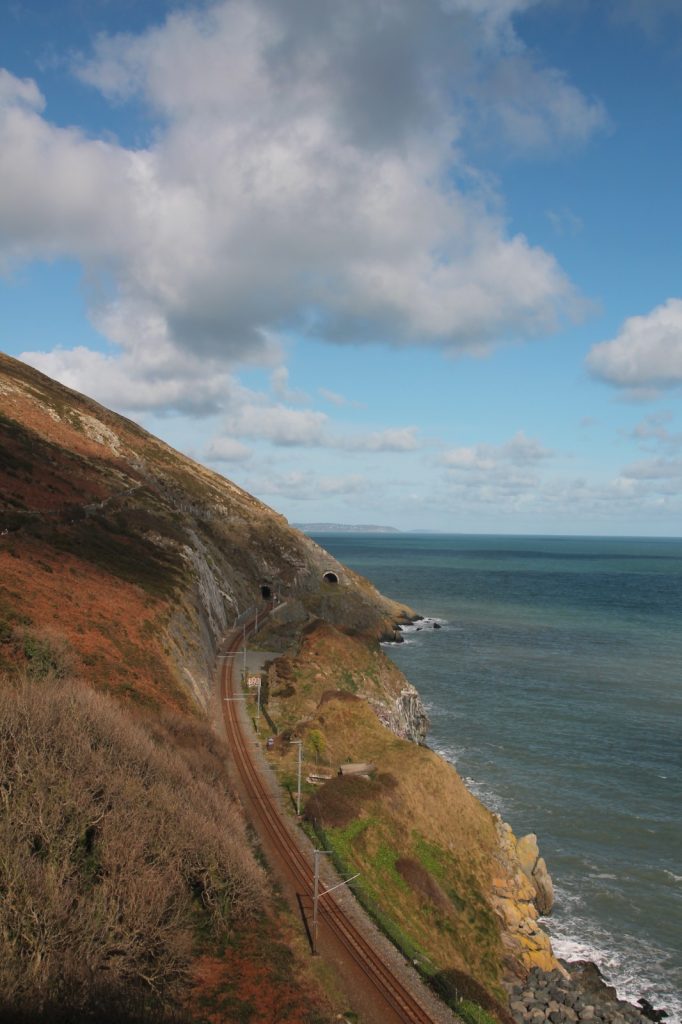 Personally, I like the upper trail more because it is a bit more demanding. Usually, the bottom walk is full of people, tourists, families. Since it is quite a narrow path, it makes it a bit difficult to enjoy. On the contrary, you can see the beautiful railway along the way, which is gorgeous indeed. The railway cannot be seen from the top hike, but the sight is worth it. Again, once more, to the North you can appreciate Dublin City, while the Wicklow Mountains appear South.
Access: Via DART, up to Bray or Greystones (depending on the starting point; I highly recommend beginning in Bray, to take the DART back in Greystones and have nice views from the train)
Trail: Bray to Greystones Cliff Walk and Bray Head and continue to Greystones (I prefer the latter)
Duration: 7 km/2 hours and 9 km/2.5 hours
Difficulty: Easy and moderate
Post-hike lunch recommendations: Dockyard No. 8, Catalyst Coffee (both in Bray), The Fat Fox (in Greystones)
Other things to see nearby: Powerscourt Waterfall, The Great Sugar Loaf, Wicklow Gaol
Glendalough
Without the slightest doubt, Glendalough is the big winner of all the hikes we have done in Ireland (together with the Gap of Dunloe, probably, in county Kerry). The Wicklow Mountains are a well-known scenic nature corner not that far from Dublin City. Glendalough is located just in the middle of them. It is not only famous due to its impressive landscape, but also because of the beautiful monastic ruins. The greates thing about Glendalough is that it is the starting point for a variety of walks of different distances and levels.
There is a private bus company that departs from Stephen's Green and leaves you by the monastic village. To be honest, the return fare is quite pricey (20€/person) taking into account the deficient service. The schedule is also really limited (two departures from Dublin to Glendalough a day, one in the morning and one in the evening, and viceversa). Unfortunately, this is the only mean to get to Glendalough unless you have a car. Therefore, we had no other choice but to take it. We arrived in Glendalough by 12.30 pm and decided to go for the Glendalough Spinc and Glenealo Valley Walk (White Route). Although we were a bit concerned about not being able to catch the bus, in the end we made it perfectly on time. And we stopped along the way to take a thousand pictures!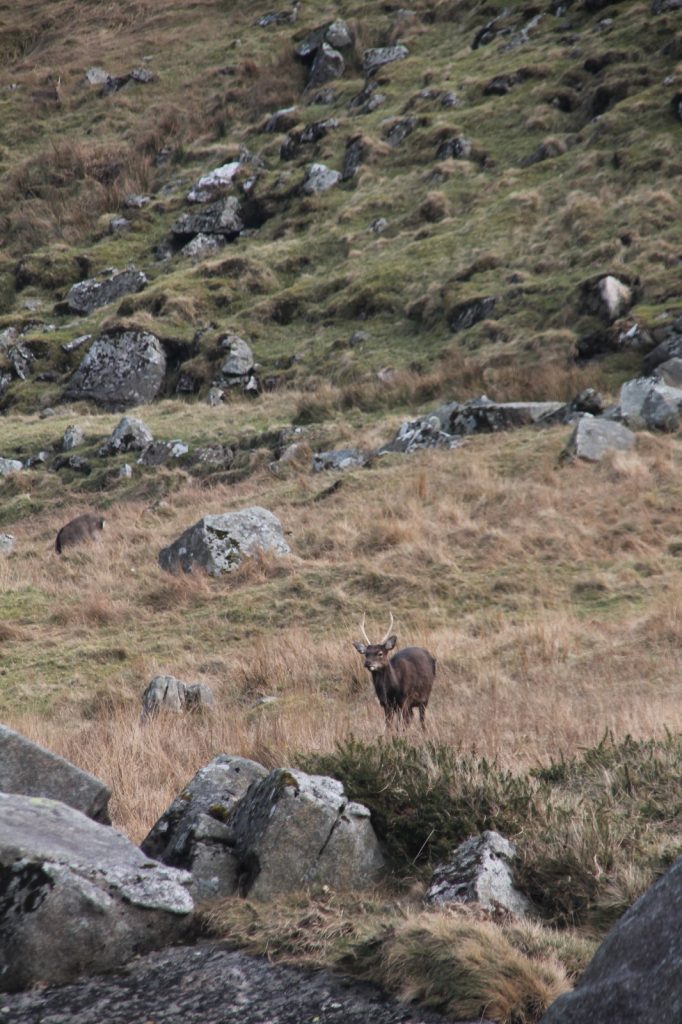 Access: Via private bus (from St Stephen's Green)
Trail: Glendalough Spinc and Glenealo Valley Walk (but there are at least 10 others, much easier!)
Duration: 9.5 km/3.5-4 hours
Difficulty: Moderate/High
Post-hike lunch recommendations: Vital Health Café, Halpins Bridge Bistro, The Happy Pear (all in Wicklow city, there are not many restaurants in Glendalough)
Other things to see nearby: Lugnaquilla, Glendalough Monastic Site, Wicklow Mountains National Park
Malahide
Last, but not least, I had to include a beginner friendlier walk, and that is the one from Portmarnock. I did this one last weekend together with my family that came here to spend some Easter Holidays. No one complained, so I suppose it is a hike that almost anyone can do! We started in Malahide and took the occassion to visit the Castle and its Gardens before the hike. After, we walked all along Malahide beach, towards Portmarnock. However, reflecting back, I would prefer to do it on the opposite direction next time, because Malahide has nicer lunch spots.
Along the path, there are fantastic views of Lambay Island and Howth Head. When the weather is good (as it was last Sunday), there are plenty of people practising aquatic sports (e.g., windsurf), having a swim, or just jogging. It is a super chill and calm area where you can truly feel the smell of the ocean and the wind of the Atlantic Sea. For those of you who have a biologist spirit, there is a lot of wildlife (mostly bird species) and fossils to keep an eye out for.
Access: Via DART, up to Malahide or Portmarnock
Trail: Malahide to Portmarnock Coastal Walk
Duration: 5.5 km/2 hours
Difficulty: Easy
Post-hike lunch recommendations: Saint-Germain, Taste of the Med (both in Malahide), Honey Honey Café (in Portmarnock)
Other things to see nearby: Malahide Castle and Gardens, Portmarnock Beach, Swords
As I said earlier, there are many more hiking options in a country such as Ireland, that is basically a greenland. This is just a selection I made from the ones I know, but I could keep on going forever. As an additional tip, although I did not include it in top 5 hikes, I would like to strongly recommend going to the Poolbeg Lighthouse if you ever come to Dublin! A total hidden gem <3