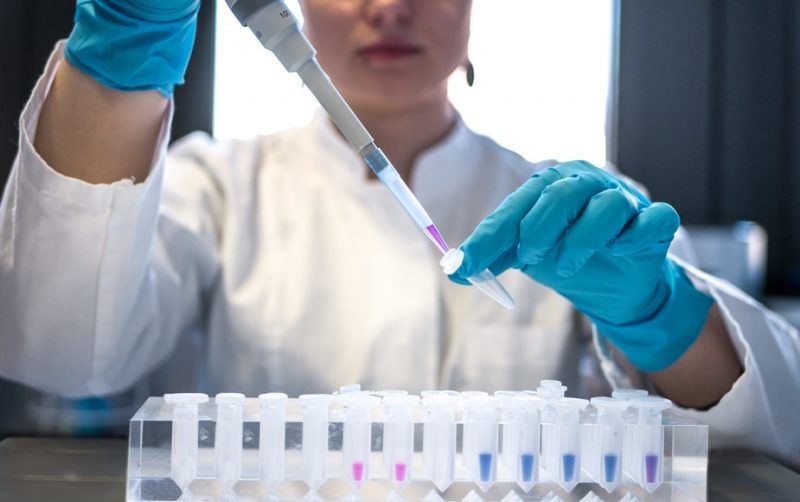 A day in my life as a exchange student at TCD
Dia dhaoibh! Hello everyone!
After one month in Dublin City, I can finally say I am properly settled. The first couple of weeks after my arrival were a bit chaotic, full of paperwork and quite overwhelming (see my previous posts for some guidance during the adaptation process). However, once I familiarised with the new streets, tasks, and faces, I started to develop a routine. Since I am a very organised person, following this routine helps me to be more efficient and not feel as stressed. Obviously, every day of my exchange life does not look exactly the same but this is an approximation of a typical day within my week.
Before getting into my routine, I must clarify that I came to Dublin in order to write my Master's Thesis. Therefore, I do not attend lectures or go to classes, but rather just work in a lab (as if I was doing an internship). Besides, I am registered as student at Trinity College Dublin (TCD) but my lab is located off campus. It is part of the Trinity Translational Medicine Institute (TTMI) at St James' Hospital (Dublin 8). Although this part of the city is not as nice as Dublin 2, and not nearly as fancy as TCD main campus, it has its charm. And the best thing, it is next to the Guinness Storehouse. That being said, without further ado, let's dig into a day in my life!
7.00: Time to wake up!
In general, my wake-up alarm is set for 7 am. I am not a morning person and I usually require plenty of time to get off on the right foot. My waking up time will vary depending on when I need to be in the lab. Most days, I try not to arrive in the lab later than 9 am. After the alarm rings at 7.00, I postpone it a couple of times (people who deny doing this are just lying) and I end up getting up around 7.20ish. Then, I prepare myself for the day as any other person would. I get dressed, have breakfast (most important meal of the day, DO NOT SKIP IT, it is a mistake!), wash my face and brush my teeth, and pack. And finally, I am ready to go!
8.10ish: Luas to work
Because I live a bit far away from the city centre and St James' Hospital, the public transport is my best ally to commute to work every day. Luckily, my apartment is located right in front of the Tallaght Luas station (Red Line). It takes about 30 minutes from my building's front door to my office's door. My supervisor is very flexible with the morning entry time. Still, I tend to take the Luas at 8.10ish or 8.30ish, so that I get to work latest at 9.00. I say 8.10/30-ish because the Luas is never on time and it is always a surprise the exact time in which it will arrive.
Anyways, as a recommendation, being able to avoid public transport in the morning is a bonus to consider when searching for accommodation. It will be benefitial both for your pocket and for saving time. However, due to budget reasons, it can be tricky to find housing close to your working location in Dublin. If you are living a bit further, having a Luas (tram) station nearby is the best option, since bus-rides are often extremely long in the morning due to traffic.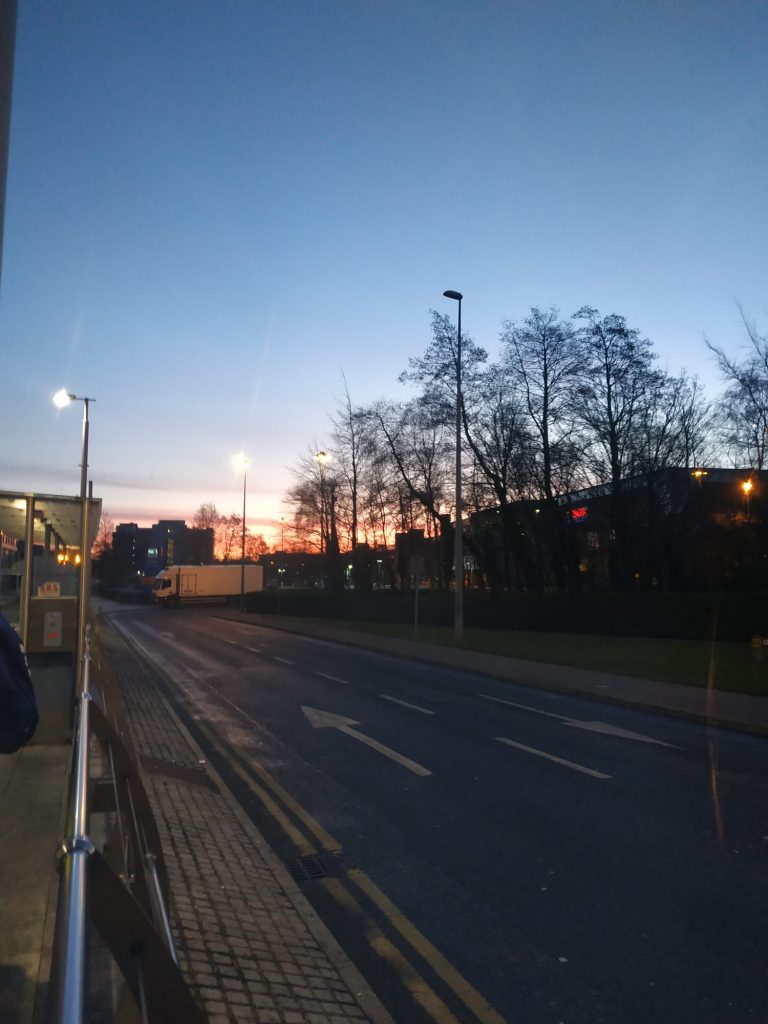 Morning (9-12/13): Working in the lab
I spend most of my morning either on the cell culture room or undertaking wet lab experiments. The aim of my Master's Thesis is to determine gender-response differences in pro-oncogenic signalling pathways in normal human bronchial epithelial cells upon exposure to cigarette smoke extract (CSE). During the first month of my exchange, I was exclusively working on cell cultures. My cells are particularly sensitive and need a lot of tact and care in order to thrive. We obtained them from a frozen stock, and it has taken until now to initialise and grow them in large quantities, which will be necessary for our following experiments. We also generated a CSE-conditioned media, which cells will be exposed to next week. After that, I am expecting to perform microarray assays and look at differential gene expression based on sex (each cell lines originated from a donor of opposite sex). This means, lots of data to analyse soon!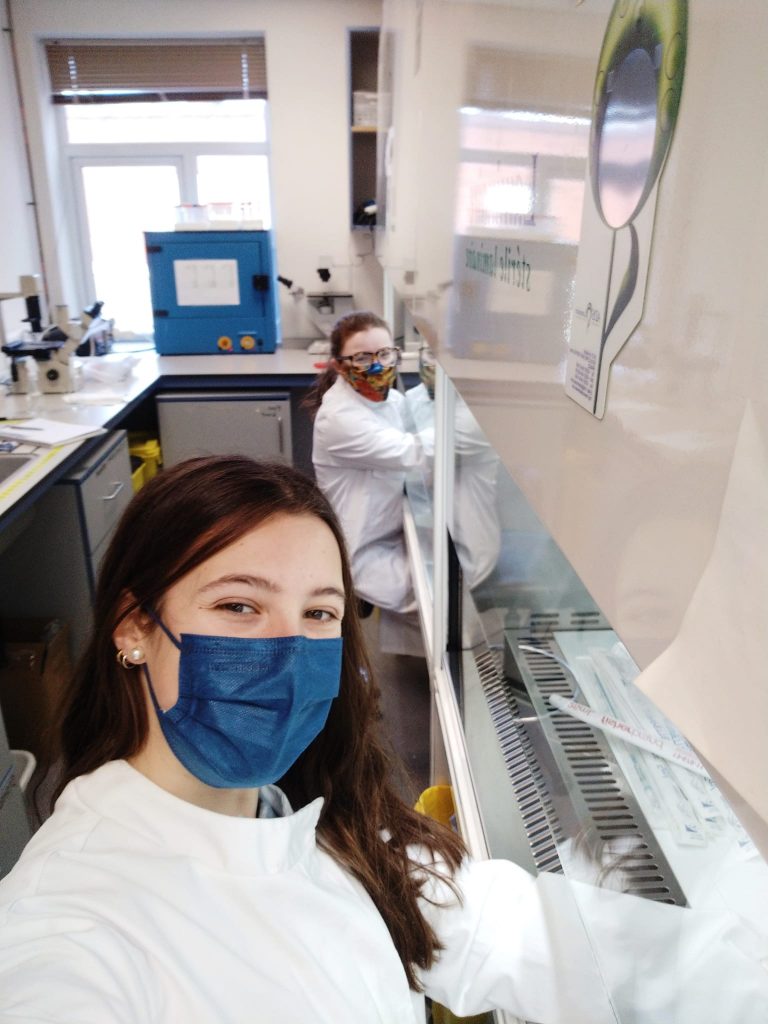 13-13.45: Lunch time
Lunch break also varies from day to day (depending on how much wet work I have during the morning). The research group where I am staying is not very big. Due to COVID-19, many people are working fully or partially from home. However, another TCD student is also carrying her undergraduate thesis in the same lab. We have become each other's emotional support during the long lab hours. In addition, we often have lunch together, which we mostly bring from home.
While the main TCD campus has many canteens and lunch options, St James' Hospital is a bit more limited. Yet, inside the hospital, there is a very affordable cafeteria with a diverse menu. This is only available for students and workers and a TCD/James' card is needed for the payment. TCD subsidises the food for its employees and that is why prices are so cheap (2-3€/dish). If you walk down James' Street towards the Guinness Storehouse, you will find my favourite cafeteria in the surroundings. It is called Groundstate Coffee and besides being a breakfast/brunch/lunch place, they also sell sustainable coffee beans and other related products.
Afternoon (13.45-17.30): Working in the office
Before calling it a day, I employ the afternoons in the office for writing the thesis report, finishing some paperwork, submitting documents, or attending seminars. Despite my office being located off main TCD campus, there are many conferences, lectures, seminar going on here as well. Moreover, due to COVID-19, most activities are hold as hybrid events, and I can participate online. For example, at the beginning of the Spring Term (called Hilary Term at TCD), I signed up for Gaelic lessons. Classes take place on Zoom every Wednesday during lunch time (13.00-14.00). Irish language, which has nothing to do at all with English, keeps on amazing me. Another instance is the TTMI Conference programmed for the 11th of March. It will be a full day event on challenges in Translational Medicine that will need to be considered in the next 20 years. All in all, my office afternoons are not boring whatsoever!
18-19.30: Workout of the day
TCD has a Sport Centre for students and rest of employees. In general, fee-paying students can use the facilities for free. However, visiting students that do not pay school fees are required to pay 75€ fare per semester. This gives access to the gym and the swimming pool on TCD campus, as well as a 15 minute free consultation with a trainer. On top of that, they have a variety of fitness/wellness classes and sports courses. They also offer a Trinity Sport+ membership with live and on-demand online classes. As I mentioned in a previous post, there are about 50 different sports clubs as well. These can be an entertaining and social way to do sports, in case you are up to meeting some locals. I must admit that the TCD sports catalogue was so big that it became a bit overwhelming/confusing to understand. My advice is to come to the TCD Sport Centre directly and ask for your options at the reception desk.
In my case, I paid the 75€ registration to have access to the gym and the swimming pool. Since my lab and my home are located so far away from TCD campus, I doubted whether I should get a subscription in their Sports Centre or a private gym company instead. FLYEfit is a well-known gym chain in Dublin, and they have facilities all over the city. One of them is next to my house and so, I considered joining this gym. They have a 29€/month fee for using only one of the gyms, and a 32€/month for entering all gyms across Dublin City. All classes on their facilities are for free, included within this price. Still, the joining fee is 25€, and it would end up being a bit more expensive than the TCD Sport Centre membership. Although free classes are a bonus, I was more interested in the swimming pool than the gym itself.
Anyways, a couple of evenings a week, I go swimming and use the gym. I sometimes come to the Sports Centre during the weekends as well, but if the weather is nice, I rather go hiking with my friends then!
20ish: Dinner and drinks with friends
Finally, the chill and social moment of the day has arrived! Again, due to the location of my house, I do not meet my friends every single evening during the weekdays. Besides, having dinner and drinks out is not very budget friendly in Dublin, so we cannot afford doing it day after day. Nevertheless, we enjoy gathering a couple of nights a week and going to a pub to grab the typical Irish pint of Guinness.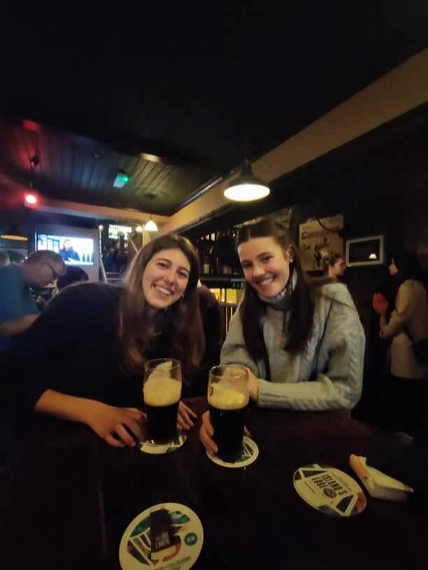 Depending on the area of the city where you go, the pint of Guinness would vary in price. From 5.50€ that is the cheapest I have ever paid, to 7/7.50€ that you may pay in the most touristy Temple Bar area. Until recently, my friends and I have been meeting in front of the classic Temple Bar and from there, going to a pub called The Old Storehouse. Even though the Guinness is not particularly low-cost (6.70€), they have live-music and it is not overcrowded (as it happens in the original Temple Bar). During the weekends they also have shows and people doing riverdance, which is very entertaining to watch. They serve pub food, i.e., burgers, fish and chips, sandwiches, etc. Not the most amazing and healthy food in the world, but it is what you will find in most pubs in Ireland. Last week we went to a pub in the northern side of the city (Dublin 1), called The Celt. It was a very charming spot, with many sea and sailing details and decoration, and the Guinness was cheaper (5.50€). It is a huge pub, divided into two dining rooms, and one of them often has live music too. In any case, Dublin is full of pubs, so you will not have a problem finding one. And while you cheers with your Guinness, do not forget to say Sláinte!
23ish: Time to sleep!
And that is it! I described a very packed day, but not all of them look the same. Both my pocket and my energy could not afford going out every single evening, so other times I come home straight after the workout session, cook food in my kitchen, watch a series and read a book. Every day has its own beauty and teach me new valuable lessons. But for now, all I know is the best way to recover from an intense day is a good night of sleep!
Good night! Oíche mhaith (/ee-ha wah/)!