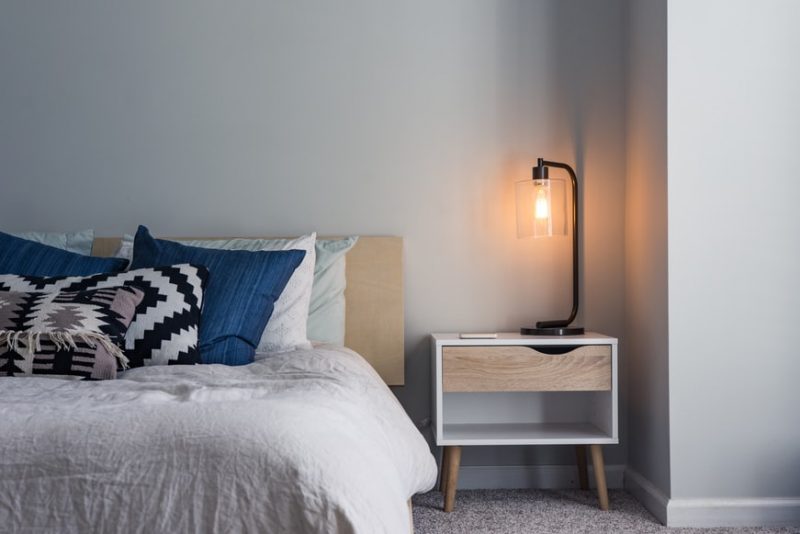 How to find accommodation in Dublin
Before moving to Dublin, I was told that flat hunting in the city would require a big effort and time. However, I had heard similar things about the housing situation in Stockholm but personally never encountered any difficulties to find a place to stay. Therefore, when I started looking for accommodation in Ireland, I thought it was going to be a piece of cake (or at least, not as daunting as everyone claimed).
Little did I know about the nightmare that would follow. Believe me when I say that apartment hunting in Dublin (and generally, in Ireland) is like looking for a needle in a haystack. You may come across cubbyholes for ridiculously high prices, creepy roommates/landlords, and remote houses. But there is light at the end of the tunnel, so do not give up. Luckily for you, here I bring an extensive guide that will be useful. With a little planning and persistence, you will succeed in finding a budget-friendly and decent place to live in during your exchange.
Facts about the housing market in Dublin
I definitely do not want to bore anyone with dull data and numbers about the housing market in Ireland. Yet, I do consider that having trustworthy information on the topic might bring you down to earth (unlike it happened to me). Dublin is a popular city to live, work, and study, which makes the process of finding accommodation quite challenging.
According to the Daft.ie Rental Report, only 712 homes, 27% less than the year before, were listed for rent in Dublin on February 1, 2021. House rents increased 8.9% during 2021. Similarly, the cost of a single or double room rose 6%. The average rent for a single bedroom in Dublin City Centre is 683€/month (North Dublin City 590€/month, South Doublin City 628€/month) and about 200€/month higher for a double bedroom. However, the truth is that most rooms I saw online asked for 750€/month onwards (many landlords advertise double bedrooms as if they were single).

All in all, these numbers reflect the ongoing houring crisis in Dublin. This is characterised by a shortage of rental properties and extremely elevated rents. But do not lose hope. Your ideal room is waiting for you just around the corner and I am going to help you find it!
Choosing the right area to live
Dublin is divided by the river Liffey into different geographical zones, from Dublin City Centre (the most central area), to North Dublin City and South Dublin City. The city is composed of various districts, each of which has a unique number code. Now, I do not know who created these numbers but sometimes they do not make any sense. You cannot expect neighbourhoods with two consecutive numbers to be close to each other. Although it might be the case sometimes (e.g., Dublin 1 and 2 are the north and south centre), numbers are frequently not related to proximity (e.g., Dublin 12 is towards the souther west, whereas Dublin 13 is far up north east).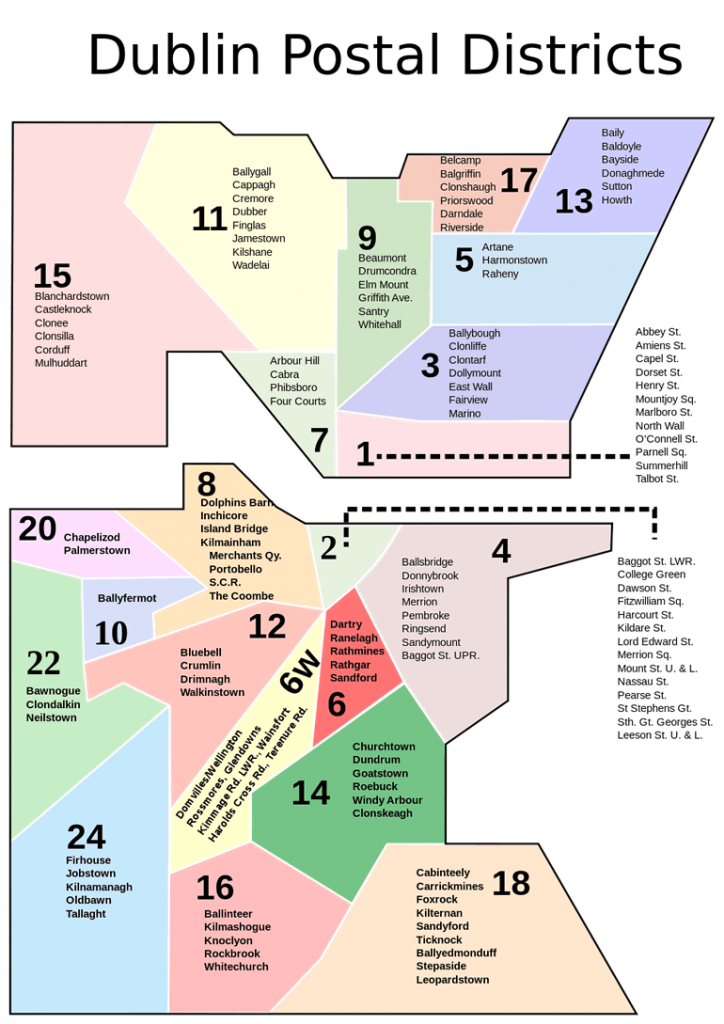 Safer districts
The choice of where in the city to stay will mainly depend on the location of your university/intership place. The two main universities in the city are Trinity College Dublin (TCD) and University College Dublin (UCD). TCD is located in the city centre (D2) and UCD in the south eastern part of the city (D6). While accommodation in Dublin 6 can be a bit more affordable (since it is further from downtown), it will surely be tricky to live in Dublin 2.
Largely, South Dublin City is more popular than the North Dublin City to live, and average rent is a bit pricier. Dublin 6, in particular Ranelagh, Rathmines, and Rathgar are are well-liked areas for students, not too far from the city centre. Apartments in Ballsbridge and Sandymount (D4) are also in demand, mostly those relatively close to a tram (Luas) or train (Dart) station. North Dublin City has more low/medium, working class areas, and thus, rents are often cheaper. Glasnevin, Drumcondra (D9), Fairview, Clontarf (D9), and Raheny (D5) are nice and clam neighbourhoods.
But again, the most important thing to take into account is that the flat should along one of the Luas line or Dart route. For this reason, a tip is to always check in Google Maps the apartment's location to confirm that is near one of those public transport stops. I recommend not having to take the bus to work/school, because it is very slow, specially in the mornings.
More dangerous districts
As for what areas to avoid, here is a fun fact. Deliveroo (an online delivery service) drivers have created a detailed map of areas in the city where they do not deliver after 10 pm. This map is based on their experience and bad encounters, and people usually take it as reference for accommodation. Dublin City Centre (D1) is one of the biggest criminal sites. Even though it is a fairly (always watch out your belongings) enough environment during daytime, it becomes a hotspot for drug addicts at night. Likewise, the surroundings of Pearse Street Garda station, in the south inner city, have a high crime rate. Other problematic districts in the outskirts of the city are Tallaght, Clondalkin, and Ballyfermot in the west, and Ballymun, Finglas, and Coolock in the north.
Where to search for accommodation
Student residences
Student residences are situated either on-campus or nearby. They typically consist of a room with ensuit bathroom and shared kitchen. They offer a great opportunity to meet new people, live an active student life, and enjoy plenty of different facilities. Sure, these student rooms look really fancy and are highly demanded, but also crazily overpriced. Rent is paid weekly and the cheapest student rooms are ~240€/week. Moreover, leases tend to be for the whole semester. So, if you plan to stay for a shorter period of time, this option might not be ideal. For those of you who are interested in student housing, Rent.ie organises student accommodation listings by city and college. Additional examples of student residences are:
Private rentals
A common alternative to student residences are private rentals. A wide variety of housing exists within the private rental market, from single rooms, to shared aparments and whole houses. Some of these properties are advertised by well-known real estate agencies, which might sound like safe-options. However, there are many requirements for renting these accommodations (e.g., having a social security number, professional references, references from previous landlords, etc.). Therefore, considering properties that belong to independent landlords gives students a higher chance to finding a place. But be careful with scammers. They are everywhere. I also want to highlight the cost of bills (electricity, heating, internet). While a few landlords include it in the monthly rent, others will expect you to pay bills on top of rent. Do not let them trick you with this and ask about it before signing any contract. Isolation of houses in Ireland is awful, so you will rely on the heating (which is quite expensive), at least during winter. Some sites where to start searching are:
Homestays
Lastly, I wanted to mention homestays. Due to the accommodation shortage in Dublin, several universities are encouraging their employes who own a house to rent a room to students. Some local families are doing so as well. A homestay refers basically to staying at the place of a host family. In fact, living with locals can be an excellent shot to learn about the city and the culture. Advantages of homestays are that rents tend to be more economical, bills are often included, and in some cases, they might even cook for you (which will upgrade your international experience). In contrast, you may not have as much privacy and it could be difficult to have friends over (you do not want to disturb your host family's privacy). In the same way, you could be unlucky and end up staying with a host family that shares nothing in common with you or are a bit weird. Still, I have heard many good stories of people in homestays. I would have definitely given it a try if I had known about it before! Check the next webs for homestyas:
My own personal experience
As I mentioned before, my process of apartment in Dublin was pretty chaotic. Following the recommendations of everyone that had lived here before, I started looking for accommodation very early (six months prior to arrival). In the beginning, I was feeling optimistic and genuinely hopeful. I texted a few private landlords via Facebook, but I was picky and had high standards for chooosing a room. After all, I was not in a hurry. In that first stage (six to four months prior to arrival), I just wanted to test the waters.
When the fall semester started in Stockholm (about four months prior to arrival), I begun to feel worried. What if I could not find a decent place to stay? Most rooms that were being advertised were either too far, or too costly, or to trashy, or for long-term. I had to lower my standards to a feasible level, and send as many emails as my daytime would allow. I contacted my mum's former Irish host family (she worked as an aupair in Dublin as a teenage). I talked to my Irish corridor mate and asked whether she knew about someone renting a room. I spent hours and hours scrolling down my Facebook wall, in search of the perfect room. I must admit, the demand for accommodation is so high that half of the landlords I texted would not even reply. The other half would find an excuse to choose another candidate (being a student, not being in the city, and not having previous housing references is a downside).
In early November, the neighbour of my Irish corridor mate in Stockholm offered me a room at her place. The rent was ok, the area was nice, but I had an hour-long commute to work every day. Simultaneously, I met another Basque guy on Facebook who was working in Dublin and looking for accommodation. We tried searching for a house together with a third person (he would go to viewings in person), but our efforts ended up being unsuccessful and eventually, he found something else on his own.
By December, I was so desperate I discussed about the housing issue with my supervisor. She was more than glad to help me and put a small note in the ad-board at their office. Sooner said than done, one of her PhDs contacted me offering a spare room at his place. The rent was reasonable, the room lovely (with my own private bathroom), and well, the location… Do you remember Tallaght, one of the "more dangerous" districts in the city? Yes, that is where I live now. I decided to go for this option because of a bunch of reasons, but mainly because the landlord being a PhD student with my supervisor gave me trust. Besides, our entrance door is right by the Luas (tram) station, next to the Tallaght Hospital, and in front of the The Square mall. It is true that the Western side of Tallaght is a bit troublesome, particularly at night. Yet, the area where I live is really safe, not super lively, but it has several coffee shops, brunch places, grocery stores, gyms, etc. It takes 30 minutes to work by Luas, and 45 minutes to the city centre. It is far from perfect, but I could not be happier to have found a decent place in Dublin. This was a total victory for me!
Final tips for the flat hunting process
It seems clear that the apartment hunting in Dublin can be intimidating. That is why, being familiar with the basics of this process is key to save you time. As a summary, here are several things you MUST to know if you are soon going to start with the search. Good luck!
Get started with the apartment hunting as soon as possible. It is never too early. It is true that many landlords advertise rooms only a couple of weeks before the entry date, but still, being familliar with the market and keeping in touch with some landlords is a good idea.
Ask about accommodation to ANYONE you know. This might sound a bit stupid, but you never know who might have an offer for you. Living in Stockholm and studying at KI, we are surrounded by a very international environment. If you have Irish classmates, corridor mates, collegues, acquantainces, etc. in Stockholm, let them know you are looking for a place in Ireland. Also, inform the people that will be welcoming you in Ireland (supervisor, collegue, international coordinator, professor, etc.) about this. We live in such a small world, they might end up giving you the solution to this puzzle.
Come to the city ahead of your stay. Yes, and not for sightseeing (but also), but for having a viewing weekend. The biggest reason why most private landlords rejected my application was because I was not yet in the city. They often want to meet the tenant candidates and show the house in a viewing, and it is more difficult to do this on distance. A good choice could be to come to Dublin a month before your exchange, having arranged multiple viewings for that same weekend.
Find a host family/home. My major regret is not having learnt about the host families before. Despite the reduced privacy, I stronly believe experiencing a homestay is an enriching opportunity for a exchange student. Moreover, it is the most budget-friendly option in Dublin. Most families live in residential areas a bit further from the city, but they are safe and often well-connected by public transport.
Be aware with scams. Last, but not least, it is super important to be careful. The web (principally Facebook) is full of scams and people trying to trick students. A good indicator for detecting scams is to ask for a proof of addres (any kind of bill that shows the landlord owns the place). You might also want to check if you can find the landlords on social media (e.g., LinkedIn). Blurry and shaky photos are frequently unreliable. And always remember, NEVER EVER EVER pay anything without having seen the place, meeting the owner and signing a legal contract.