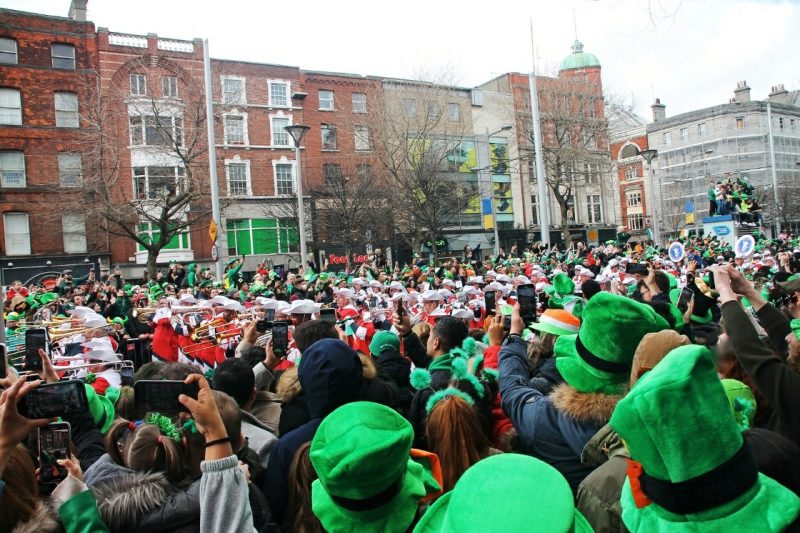 Top 5 things to do for St Patrick's Day
Dia dhaoibh! Hello everyone!
As you might all know, a couple of weeks ago, on the 17th of March, we celebrated St Patrick's Day. Also known as Paddy's Day, it is a public holiday in Ireland, serving as a kind of national day. However, influenced by the Irish Diaspora (that is, the many Irish emigrants living overseas), countries such as the United States, Canada, Argentina, etc. have created their own particular celebrations. In fact, the first St Patrick's parade ever was organised not in Ireland, but in Boston, in 1737. During this day, streets of Dublin (as well as several other Irish cities) awash in green colour, best Irish specialties are served on the tables, and vibrant music can be heard around every corner.
Historically, St Patrick's Day commemorates Saint Patrick, Christian missionary and patron saint of Ireland, and the arrival of Christian Religion to Ireland. Nowadays, this festivity has evolved into a day to celebrate the Irish folklore and heritage. People of all ages gather to dance at the rhythym of Irish melodies, eat and drink mouthwatering Irish delicacies, and just ENJOY! In this post, you will find some ideas of the most popular traditions and activities to do for St Patrick's Day. Are you ready for Paddy's Day 2023? Irish people already are!
Wear green
When I was packing for Ireland, my "St Patrick's Day outfit" was the first thing I put into my luggage. I knew I needed something green and so, I did not want to forget about it. What I did not know is that originally, the colour associated with St Patrick's was blue, because the earliest representations of St Patrick's show him wearing sky blue garments. Yet, Henry VIII, who took the Irish throne and declared Ireland part of England, was the person making blue a national colour. Therefore, as a way to protest, Irish people started using green as a symbol of their culture and identity instead.
Today, green has remained as the main colour of St Patrick's Day for several reasons. On one hand, "The Emerald Isle" is the nickname of Ireland, due to its endless green landscapes. On the other hand, the green stripe of the Irish flag represents the Catholics in Ireland (opposed to the orange that represents the Protestants). Additionally, it is very popular to wear a green shamrock (a three-leafed clover), which is the metaphor St Patrick employed to illustrate the Holy Trinity (God the Father, God the Son, and God the Holy Spirit). As a result, souvenir shops have managed to greenify every item sold in this day so that tourists can happily wear their entirely green attire. In my case, I just decided to go a bit more unnoticed and use green clothes that I already had in my closet!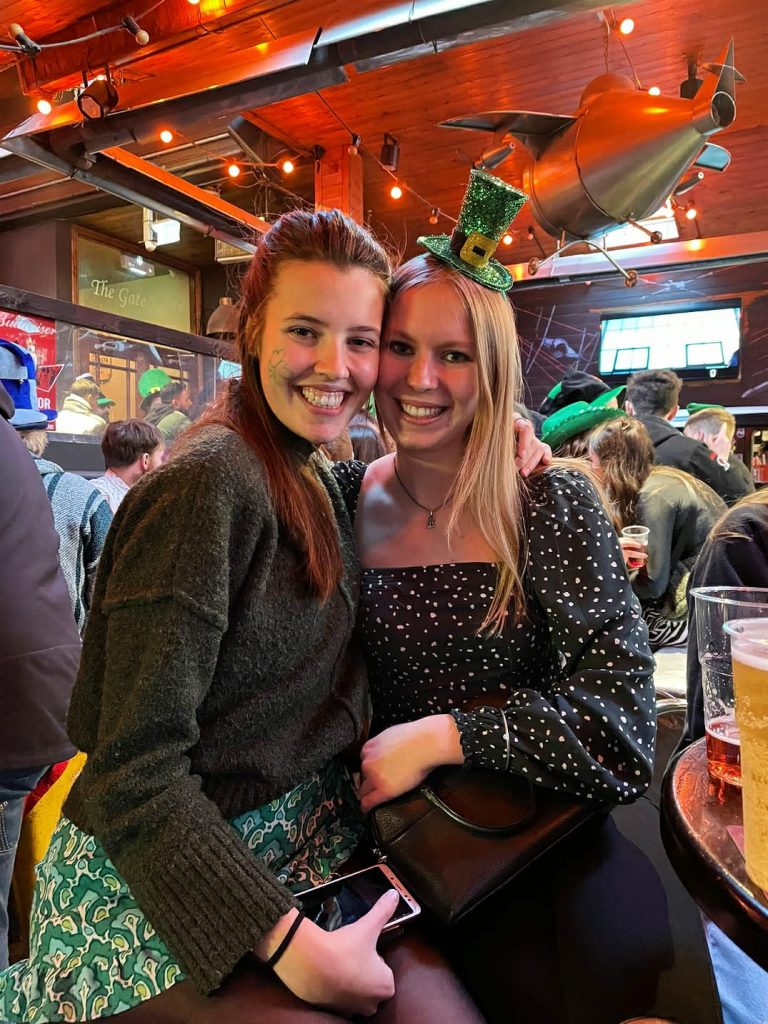 Have an Irish breakfast
As I mentioned before, one of the favourite traditions on St Patrick's Day is to eat a warm dish of Irish food. There are various typical meals to try during this day, such as slow-cooked Irish Stew, Sheperd's Pie, or Irish Soda Bread. Unfortunately, most Irish recipes contain either meat or dairy. On the bright side, many restaurants offer plant-based vegan alternatives for the traditional platters. My friends and I decided to start the day by having an Irish Breakfast in a place called "Irish Potato Cake Company". We chose this place because it has great discounts for students and coffee or tea is included with the breakfast. Nevertheless, I was surprised and a bit disappointed that they did not have a vegetarian or vegan Irish Breakfast option. Thus, I had to order the vegan fresh potato cakes, which are also a traditional Irish dish. Although they were really good, my meal was considerably smaller than my friends' Irish Breakfast (they were also quite cheaper). Here below I include some other restaurants and cafeterias where you can eat traditional Irish food, but also offer great vegetarian and vegan choices:
The funny thing about the "Irish Potato Cake Company" was that the owner was painting a green shamrock on client's cheeks. Of course, my friends and I had to do this as well. We ended up with a bunch of differently-shaped clovers in our faces, but we were all content. The guy knew how to attract customers, but he was a terrible photographer, as you can guess from the picture. Maybe he was just trying to capture the beauty of his precious Irish Breakfast and nice tea kettles, but he left us quite out of the picture!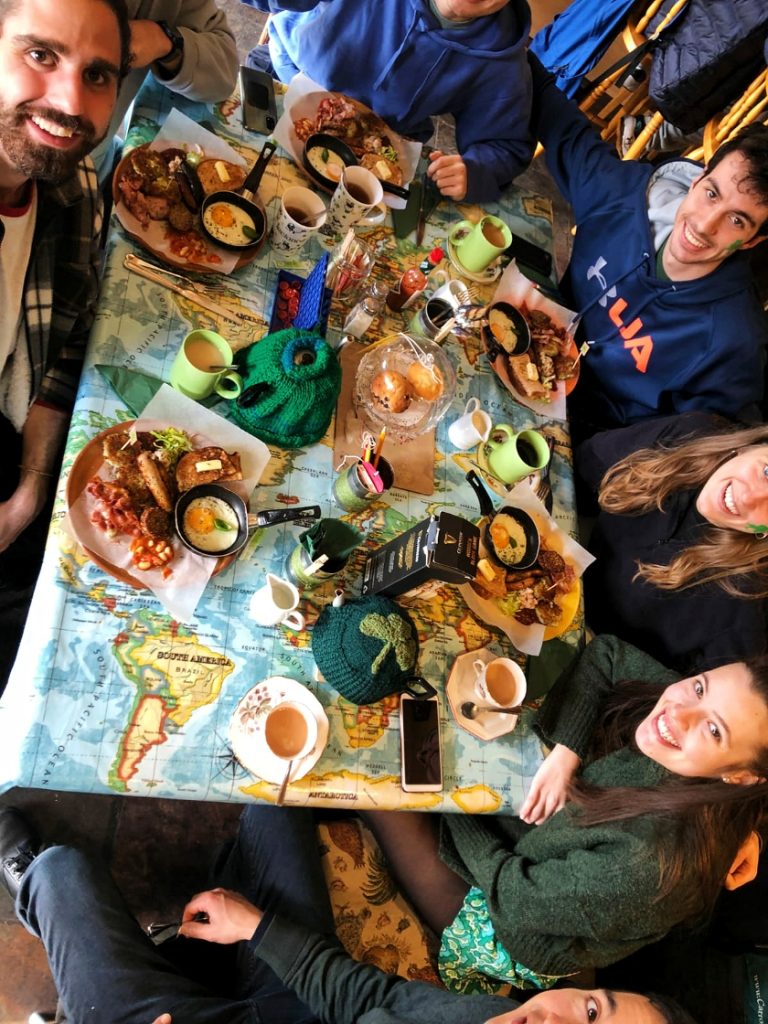 Attend the St Patrick's Parade
The St Patrick's Parade was probably one of the events I was most looking forward to. I have heard it was similar to Carnival Parades that are celebrated in other European countries. From Parnell Square in the North Side of the city to the Cuffe Street/Kevin Street Junction, the parade hosts a range of performers, musicians, dancers, artists, etc. Different organisations and groups are allowed to sign up for participating in it. No tickets are need to attend the parade, which is both an advantage (money safer) and disadvantage (horde of people). An Irish friend had previously adviced me that the best way to enjoy the St Patrick's Parade was on TV. It is broadcasted live on RTÉ (National TV Channel) and you can watch it from the comfort of your living room. Of course, because we wanted to experience it first hand, we decided to view it in O'Connell Street (one of the main streets in Dublin). Big mistake!
We arrived in O'Connel Street very late (at 12.15, when the parade started at 12.30). By then, there was no room for a single soul. The smart thing would have been to go as early as possible (people begin to gather at around 10.00). Similarly, we should have picked a less popular spot along the route of the parade. All in all, we ended up watching the parade from the phone-screens of the people in front of us. Besides, the reputation of the parade did not reach our expectations. It could be due to the fact that we were too far from the show and it was hard to see/hear. From our perspective, the parade felt a bit too flat, unexciting, and lacking proper and loud music. Anyways, we had a great time by singing our own songs, trying to guess what each band of the parade represented, and cheering up the crowd in our surroundings. But I can now understand why my Irish friend prefers to enjoy it on TV!
Sláinte!
Similar to the eating trandition, drinking is also part of St Patrick's Day. Be it an alcoholic drink or an alcohol-free beverage, Irish people like cheering to the sound of "Sláinte", which literally means "Cheers" in Gaelic. Ireland is known to be the country of Guinness, this stout beer being the most popular drink in any type of celebration. Other traditional Irish drinks include Irish Whiskey (Jameson is the most common brand), Baby Guinness (a shot of coffee liqueur mixed with Irish cream, resembling a tiny Guinness), and Irish Coffee (a cocktail of Irish Whiskey, hot coffee, and sugar, topped with cream). Nevertheless, the reality is that drinks are highly-priced in most pubs of Dublin. Definitely out of any affordable student-budget. In addition, many non-alcoholic concoctions are prepared for St Patrick's Day (of course, most of which are green). Exaples of these are Lemon-Mint Infusion, Emerald Isle Tea, Banana Leprechauns, Shillelagh, and Irish Fairy. They are super easy to make at home!
Irish Pubs are definitely a warm and cozy environment where to enjoy these drinks. My friends and I went to a student pub called "The Living Room". It is a huge sports bar in Dublin 1 that also has an outdoor area. Finding a table or even an empty spot was a difficult task on St Patrick's Day (mostly considering that we were 8 people). We managed to make some room next to the pool table, and we spent the whole afternoon dancing and singing Irish tunes. It was a shame that we did not have live music as we expected, but we had so much fun anyways. We attempted to enter a couple of other renowned pubs, but on St Patrick's Day space is lacking in the city of Dublin. And we did not want to be packed in like sardines. However, here are some suggestions of pubs and bars with live music and animated environment that are worth visiting other than in St Patrick's Day:
St Patrick's Festival Quarter
Last but not least, if you want to live the whole real Irish experience, you should attend the St Patrick's Festival Quarter. Next to the Museum of Decorative Arts and History, in Dublin 7, this day-to-night outdoor festival offers a broad schedule of spectacles for all tastes. It is house for performance spaces, relaxation areas and an Irish Food and Craft Village. Traditional Irish music and dance are the essence, but not exclusively (other types of entertainment shows are also available). No tickets are required for the day events, but it has a capacity of 3,000 people (first come, first serve basis). For the night programme, a valid ticket must be purchased in advance. As appealing as the festival sounded to my friends and me, by the time we arrived (at 17.00), the capacity was complete and we could not make it. Therefore, we concluded we should try next year again!