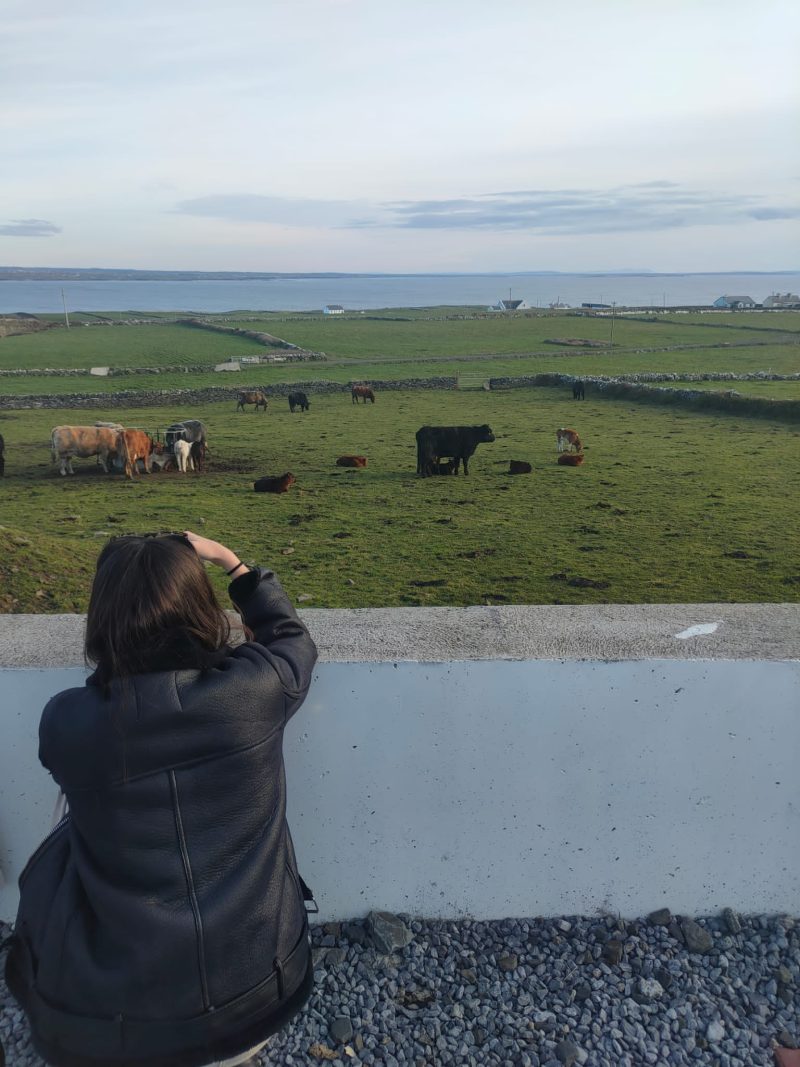 Weekend trip to Galway
Dia dhaoibh! Hello everyone!
First of all, sorry for the super long radio-silence. Many things have happened during the past couple of weeks, among which I can highlight my Master's Thesis defence! But you will be able to hear about this in a later post. For now, I want to continue writing about my stay in Ireland. As I said in the "Weekend trip to Kerry" post, we were back on the road the weekend afterwards, this time to go to Galway County.
This weekend was the last of one of my closest friends from Ireland. Therefore, he had a long "To Do" list with things he wanted to achieve before he returned to Belgium. For example, he wanted to experience a West Coast sunset at the Cliffs of Moher, have a swim in the cold waters of the Atlantic Wild Ocean, discover the greenlands of Connemara, and of course, sing the tunes of "Galway girl" in Galway. Continue reading to find out which ones he fulfilled!
Arrival and morning in Galway
We started the weekend by taking the CityLink bus on Saturday morning, at 8.45, in city centre. This is the cheaper option to travel to Galway. A round trip costs 18€ for students when booking online, which I strongly recommend, because otherwise you might find no free-spots for you in the bus. The ride took about two and a half hours until the Galway Coach station, and it went really smooth.
By the time we arrived in Dublin, it was almost lunch time. After some research, we found a cute restaurant called 56 Central Restaurant Cafe, where we had brunch. As it could not be in any other way, I ordered the Vegan Irish Breakfast (I am totally obsessed with it), and enjoyed the meal like a child. The place had a really nice decoration and environment, and there were motivational quotes in the bathroom!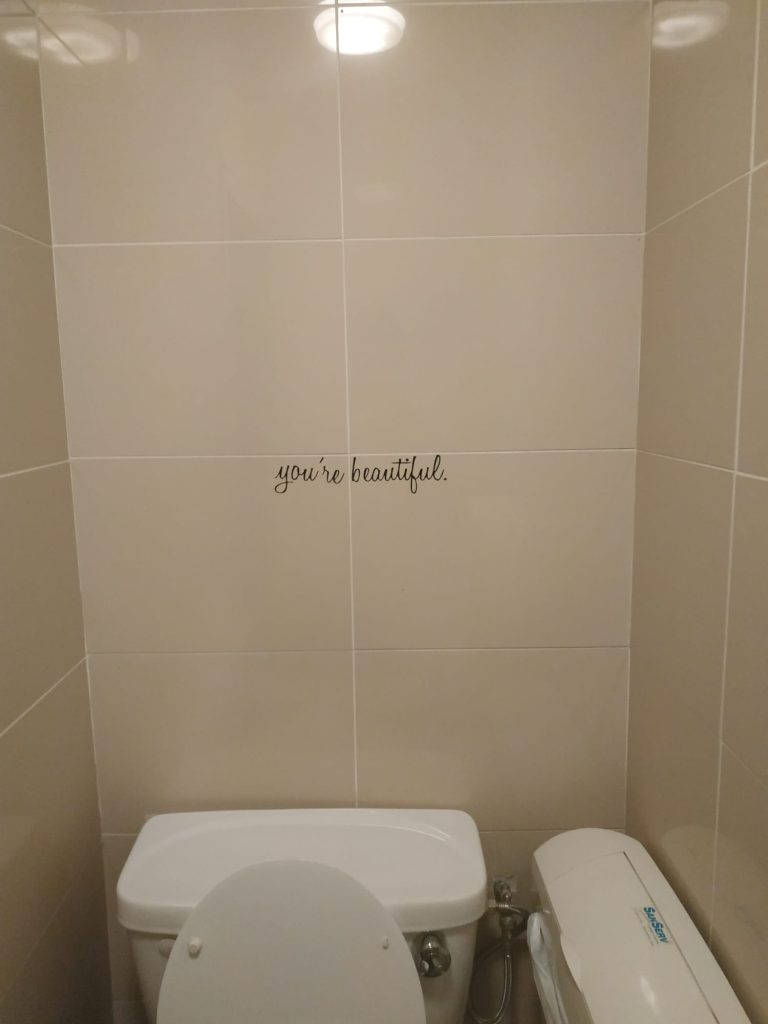 Because we had rented a car starting from 3.30 pm, we had some time post brunch to explore the city. The centre of Galway is honestly quite small, and it was really easy to walk around. During this time, we visited the Latin Quarter and Quay Street, listened to live percussion music in the Eyre Square, passed by the Galway Cathedral and the Spanish Arch, and appreciated the colourful houses by the Long Walk as we walked by the South Park Beach. And obviously, we did all of this with "Galway girl" as our soundtrack (To Do #1 – CHECK). This little Galway Tour brought so many memories back since I had previously stayed at a host family in Galway for a whole summer during my teenage years. Luckily, I still recognised many corners!
Driving in Ireland
The car rental company we used for the trip was GoCar. It was extremely convenient, because it is one of the few companies that allows people under 25 years of age to rent a car. The app is super straightforward; you book the date and time in which you will be using the car, it opens the car once the specific moment has arrived, and you can also close the car as soon as the time is finalised. The fare is also quite affordable. Within the initial price of rent, 50 km/day are included. Above 50 km, every additional kilometre is charged by 25 cents (0.25€/km). This means that the gas is paid by GoCar (usually there is a payment card in the car, in case a refill of the tank is needed).
In addition, I would like to briefly mention the experience of driving on the opposite side of the road. I am a person who loves driving and finds it relaxing. I also have quite a bit of experience. However, if you are a beginner or not a confident driver, you might want to think about this twice. Driving on the left side can be challenging, and plus, the roads of the Irish countryside are particularly narrow and curvy! Please, do not drive unless you feel totally safe.
Evening in Cliffs of Moher
Once we got the car, in the afternoon, we headed towards Cliffs of Moher. On the way we stopped by athe "Heart of Burren Walks" to appreciate the breathtaking views of the combination of greenlands, rocky landscape, and the sea. It took about an hour and a half to reach the cliffs. However, we did not go to the main parking lot at the Cliffs of Moher Visitor Centre, because they charge 8€/person, no matter if all share the same car. Instead, some friends recommended us to go to the "Cliffs of Moher Liscannor Walk", which is a bit further from the typical views, but easily accessible (and the price for parking is 4€/card).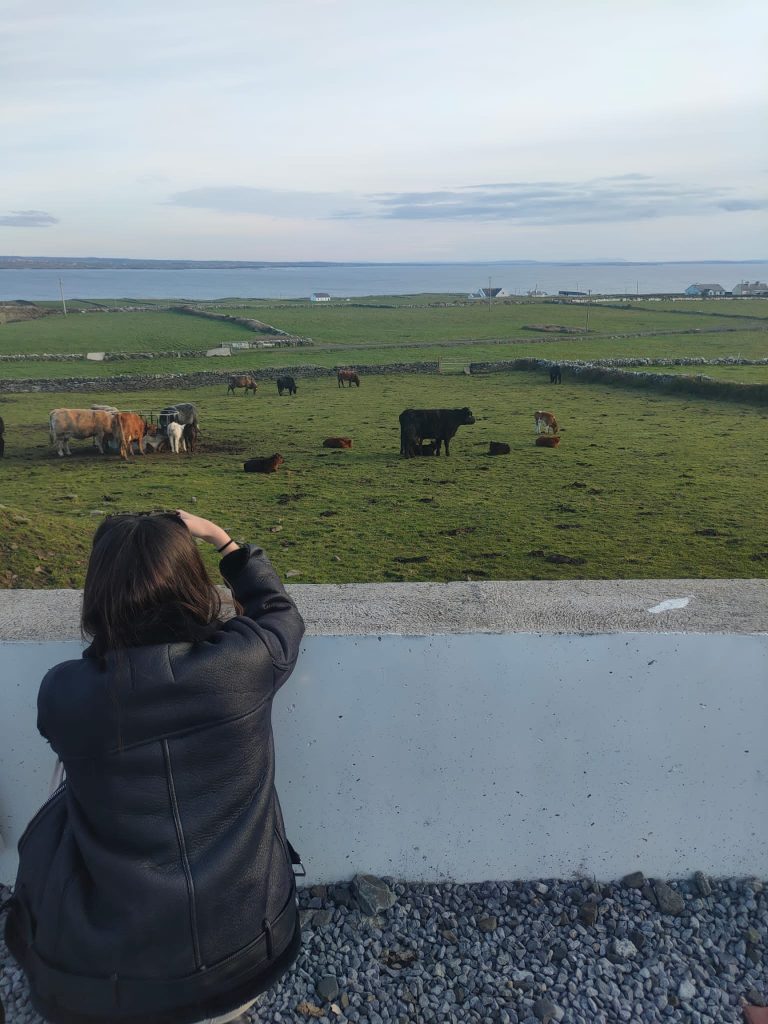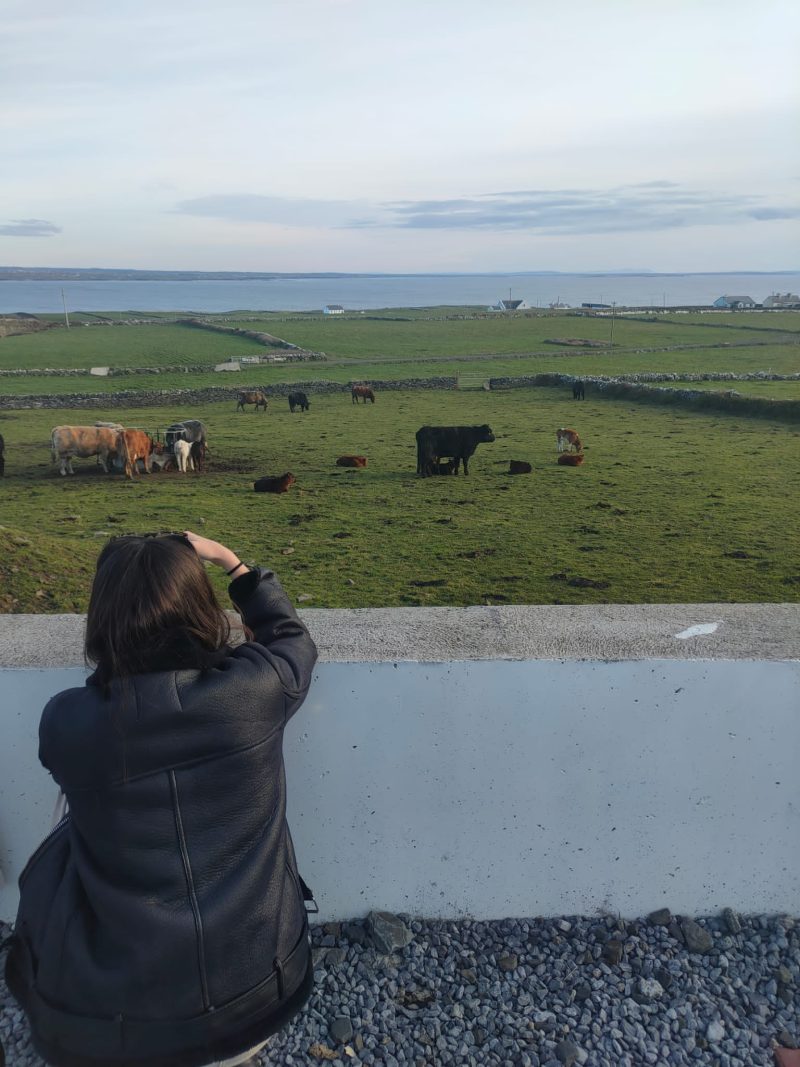 Although the weather had been great during the whole day, by the time we reached the cliffs, the west horizon had become a bit foggy. While we could still observe clear and blue skies to the east, we saw the sun hiding behind thick gray-whitish clouds. It was a bit unfortunate not to be able to witness astonishing sunset lights in the West Atlantic Coast of Ireland. On the bright side, we did view the magnificence of the cliffs and coastal scenary. Despite the cold and wind, we even managed to enjoy a nice picnic with some goodies we had bought at Lidl before. And the company, for sure, made the moment unforgettable (To Do #2 – PARTIAL CHECK).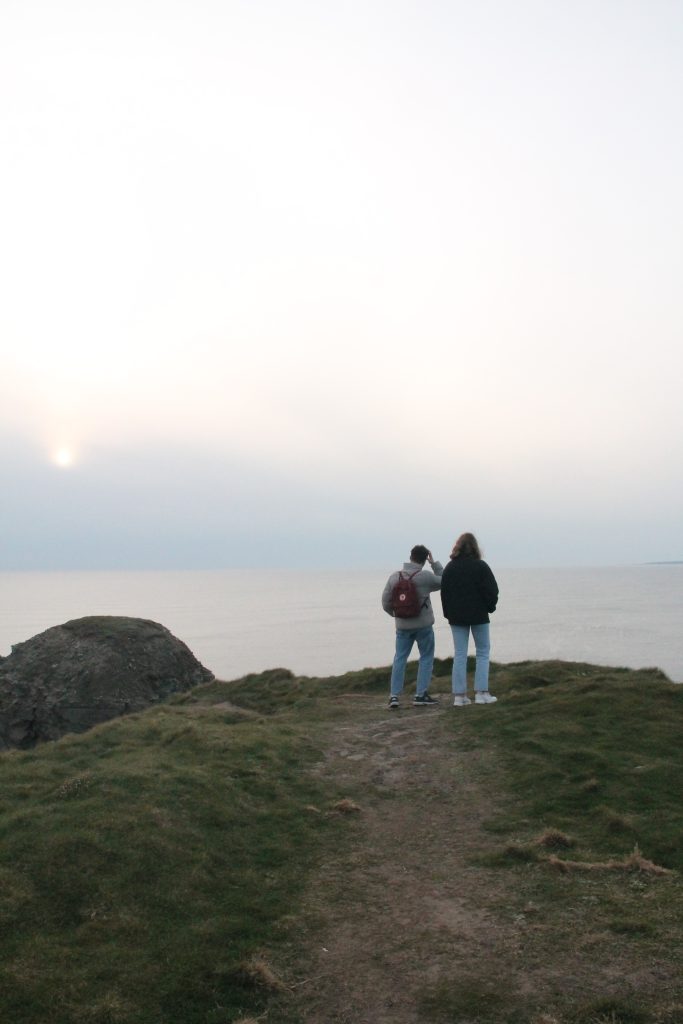 Night in Ballyvaughan
For the night, we have previously booked an Airbnb in a village named Ballyvaughan. Ballyvaughan is a tiny town in County Clare, at the other side of the Bay of Galway. The Airbnb (Barrymor Twin) was located in the outside of the centre, in the middle of the nature, surrounded by fields and mountains. To our convenience, it had parking space, a huge garden, various common areas in the house, etc. And best of all, we were surprised by a four-legged furry friend (for the ones that know me, they will immediately realise I am talking about a dog) called Coco! There was a discussion among my friends to decide whether Coco was a female or a male. One of my friends examined Coco's biology and concluded that he was a male. But what do you think, isn't Coco more a females name?
After such an active day, we literally slept like rocks. Our purpose was to go to Connemara on Sunday. Unfortunately, the day woke up very gray and rainy. However, Connemara is quite far from where we stayed overnight (about two and a half hours). Therefore, it would not have made much sense to drive such a long-distance to go hiking under a forceful shower, and not be able to get any views. In the end, we decided to take it easy and choose another chill walk. But before, we recharged our batteries with some freshly-made scones and toasties, accompanied with a breakfast tea. If you happen to pass by Ballyvaughan, I recommend to have a pit stop at The Soda Parlour café.
Hike in Rosscahill Woods
As mentioned, our first intention was to visit Connemara for hiking. Sadly, due to lack of time and typical Irish weather (pouring cats and dogs), we could not make it (To Do #3 – NOT CHECK). Alternatively, we chose to go to eh Rosscahill Woods, which are a 20 min drive away from Galway City Centre. Although it was a pleasant promenade in the forest, next to a beautiful lake, it was not by far as challenging and spectacular as we wanted it to be. Rosscahill Woods are a perfect place to go for a walk with your dog, or spend some time with kids. But if you are looking for a more intense hike, then going all the way to Connemara would be strongly recommended! Yet, we had lots of fun, and managed to bring up an interesting conversation on US politics even!
Lunch and return to Dublin
At 15.00 we had to return the car in the same spot as we picked it up, close to Galway City Centre. After this, we were feeling pretty hungry again, so we tried a Malasyan restaurant (Papa Rich) which had been suggested by my flatmate (who is also Malasyan). We fully trusted his criteria, and it did not let us down! I can almost say that this is one of the main highlights of the weekend! They had a super extensive menu, with more than 50 different plates to select from. The food was outsandingly tasty, the flavours were greatly accentuated, with real spices and heat. Its personnel was lovely, we received a truly thoughtful attention. And for all the amazing quality, it was crazy cheap!!! A 10 out of 10.
Finally, with our bellies full and successfully happy, we took the bus to Dublin at 18.15. On our way back, there were huge queues to catch the bus, since many people had not pre-booked a ticket. Some of them actually had to stay in Galway and wait for the next (and last) bus, and pray for good luck to get a spot! Eventually, again, due to the cold, rain, and time limitations, my friend did not check "Have a bath in the Atlantic Wild Ocean" To Do from his list during that weekend. Thankfully, we had a sunny and warm following week that allowed us to do it on his last day, in Killiney Strand instead! 2.5 To Do's out of 4 fulfilled, not bad. This way, we will have an excuse to come back to Ireland!